DESIGN AND SUPERVISION SERVICES
In order for a building to be designed and construction undertaken according to the needs of the client and to be maintained in an appropriate manner, it is necessary to follow the steps mentioned below.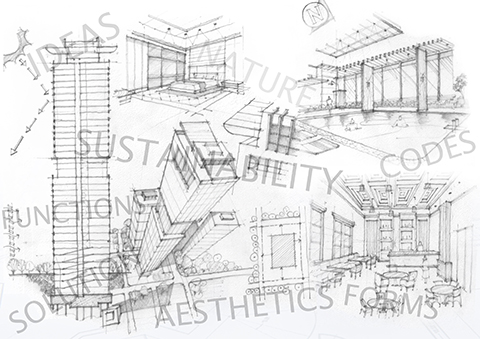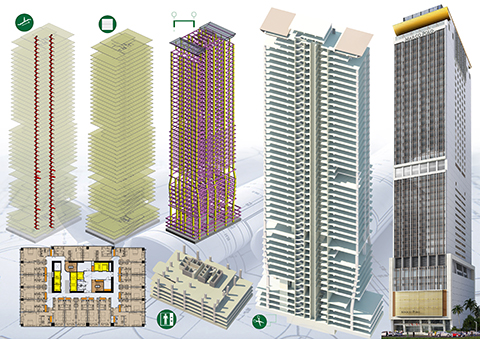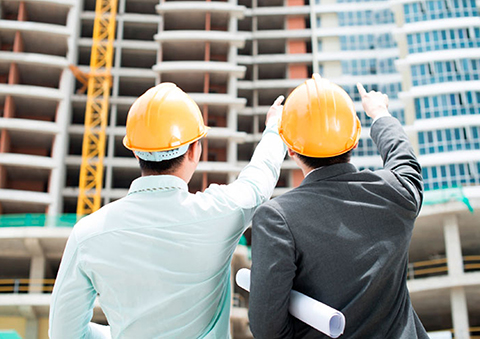 - 1. Planning stage
We define requirements for designing and given conditions in collaboration with clients and examine the concept planning to attain the images of the architectural structure which clients desire. Also, we conduct a site survey and an existing building survey as needed.
Site survey and existing building survey
Consideration and planning of project schedule
Consideration and planning of ideas for basic concept
- 2. Basic design stage
Based on requests and given conditions, we formulate a basic plan of the architectural structure. We fix on the images of facade of the building, interior design and color. Moreover, we clarify the completed figure of the building by investigating enactments, criteria and techniques required in implementing the plan as well as by doing a case study of construction schedule and construction cost.
Survey on enactments and regulations
Cost study
Consideration and planning of basic design
- 3. Detailed design stage
We make various decisions by considering the basic design from the point of view of both design and technique. On that basis, we draw the design required to order construction works. Along with this, we start necessary procedures and detailed meetings with government staff.
Engage in prior consultation with administrative institution and begin procedure of application for building confirmation
Make a drawing of detailed design
Formulate building budget
- 4. Stage of selection of contractor and contract with it
Based on the design drawing, construction works are ordered. We confirm that the construction contract between the clients and the contractor fully includes the content of the design and give advice on it.
Advice and additional instruction for selecting a contractor
Confirmation of content of the construction contract
Support in the contract procedures
- 5. Stage of construction supervision
We check whether the construction works are implemented based on the contract. We work toward smooth implementation of the construction works in partnership with the contractor in order for the objects indicated in the drawings and specifications to be completed within the term of works. In addition, we make final decisions of finishing materials and colors in this stage.
Explanation regarding content of the design and discussion about the construction works
Confirmation of the draft for construction works made by the contractor
Confirmation of materials and physical samples
Proposal for finishing materials and colors
Check-up of administrative institution and response to handing over
- 6. Maintenance system
We propose an appropriate maintenance plan so that the buildings are used according to the aims confirmed in the stage of designing and provide long-term performance.
Conduct surveys on age deterioration and troubles
Formulate repair plans
Make a design for improvement and estimate for it
DEVELOPMENT CONSULTING SERVICES – SOCIAL DEVELOPMENT UNIT
- 1. General picture of the consulting service
When implementing overseas school construction projects, in addition to the construction designing and supervision, we believe that it is necessary to consider the needs and educational circumstances of a wide range of stakeholders who have rarely been considered as clients such as students, teachers, school staff, parents and local residents. We also believe that it is of great importance to encourage the ownership and participation of those people in our projects. In order to achieve this, the Social Development Unit was established in 2000, aiming to provide highly detailed assistance reflecting needs of people. The staff working in this unit specialize in education and gender. Our service ranges from educational survey under the school construction project funded by Japan's Grant Aid (Official Development Assistance) and capacity building and training through a soft-component program for the same project.
We have conducted educational surveys and soft-component programs under the ODA school construction projects in more than 10 countries in Asia, Africa Central-America and Middle-East. We have also carried out preparatory surveys / information collection and verification surveys / evaluation surveys / monitoring surveys under the schemes of Japan International Cooperation Agency (JICA). Hence, we would like to expand our scope of service to a variety of survey in the field of social development as well as project formulation activities.
- 2. Work contents
2.1 Survey
When making the basic design for school construction projects funded by Japan's Grant Aid, we conduct a wide range of surveys about the country's educational policies, educational administration, current situation and the needs of schools and the community. Based on the results of the survey, we examine the validity of the project as a Grant Aid project and also propose the selection of the project schools, scope and content of the project and a program of soft-component, if necessary, in order to implement the project effectively.
< Main survey items >

National development plan, education policies and education sector plan
Actual situation and priority issues of the education sector
Trend of international donor aid in the education sector
Educational situation and social and economic status in the area where the project is planned
Local capacity, system, school management and maintenance system to implement the project
Gender and area disparities in educational opportunity and learning environment
Social surroundings to be considered in conducting the project.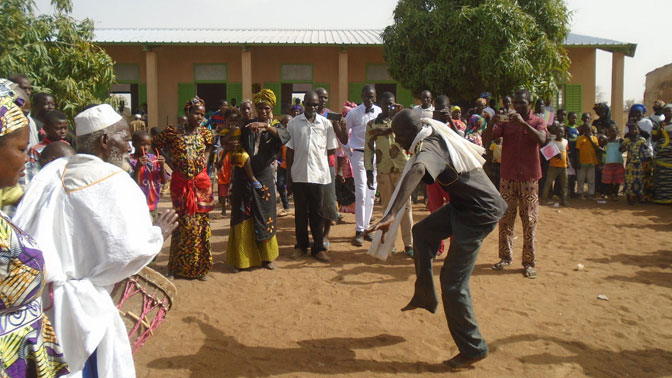 2.2 Capacity Building and Training(Soft-component)
It is important to ensure that the school facilities provided by ODA are used in an appropriate manner for a long time. In order to achieve this, we have been engaged in implementation of workshops for the administrators and school staff as well as creation of a school maintenance manual for them, aiming to improve their capacity of school management and maintenance. We conducted this kind of soft-component programs in Tanzania, the Philippines, East-Timor, Vietnam, Yemen, Senegal, Mali and Madagascar.